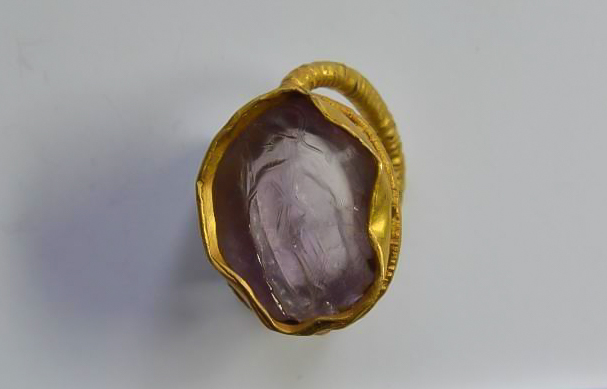 A Roman gem-set gold finger-ring
Date: Roman, 3rd – 4th century AD
Report on Potential Treasure for HM Coroner
The slender, circular-sectioned, beaded wire hoop, now a little distorted, is flanked by a pair of tiny globules at its junction with the lower edge of each end of the bezel. The bezel, an oval box with flared sides and a very slender beaded wire girth ring, is open at the back as well as the front. Its upper edge is dented in several places. The oval intaglio, a translucent, lilac-coloured amethyst, has a low convex obverse and stronger convex reverse (Henig's gemstone shape Curved, 1). It is secured in the bezel box by a gold strip forming a bevelled internal rim at both the front (now damaged) and the back. The engraved image is of a standing Minerva wearing full-length drapery and a crested helmet and facing to her right. She holds a spear in her right hand and supports a shield at her left side with her other hand. Regrettable damage to the front and lower left side of the intaglio, probably caused by a heavy blow, obscures some detail.
The open back of the gem-setting allows the passage of light through the stone offering the possibility of an additional view of the engraved image by transmitted light.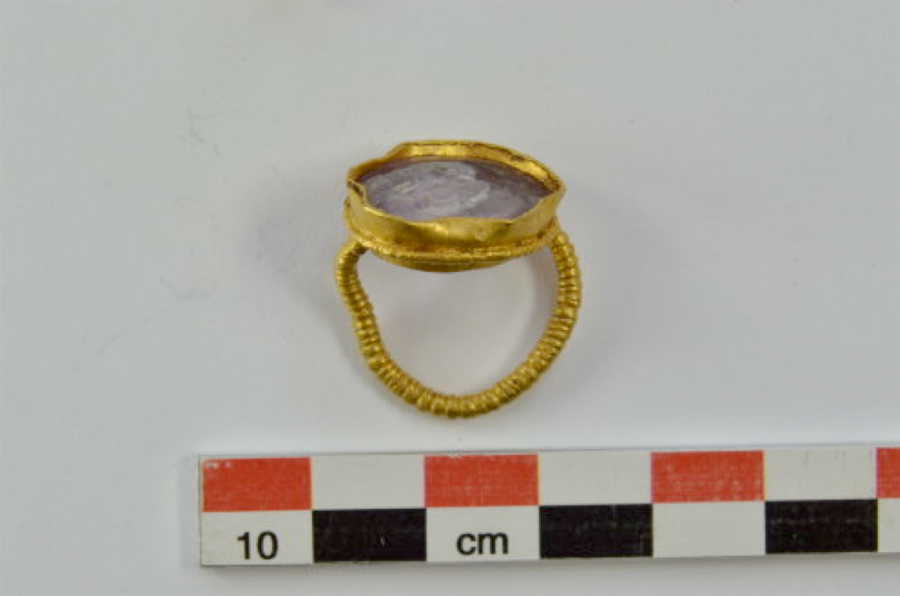 Dimensions: Hoop, W. ext., 21.8 mm; int. 17.5 mm. Bezel 18.8 x 15.1 x 6.1 mm. 
Weight: 7.36 g.
Analysis: Non-destructive surface metal analysis conducted at the British Museum indicated a surface composition of approximately 86-88% gold and 8-10% silver. The gem was identified by Raman spectroscopy as quartz, which would be termed amethyst when this colour.
Conclusion: In age and precious metal content the object qualifies as Treasure under the terms of the 1996 Treasure Act.
Text by Ralph Jackson. Dept. of Britain, Europe & Prehistory. British Museum. 10th September 2015.